FREE! FLY TYING SUNDAYS @ THE SPOT!
We have lined up some of the finest local tyers who will be sharing the expertise on a wide variety of flies. Don't miss the chance to learn from these experts for FREE at these events.
They will be tying in the shop on select Sundays from 11am – 2pm (See Dates below).

Sundays from 11am – 2pm…  See Guests and Dates below..

Ben Frankin – Traditional Married Wing Techniques for Trout and Salmon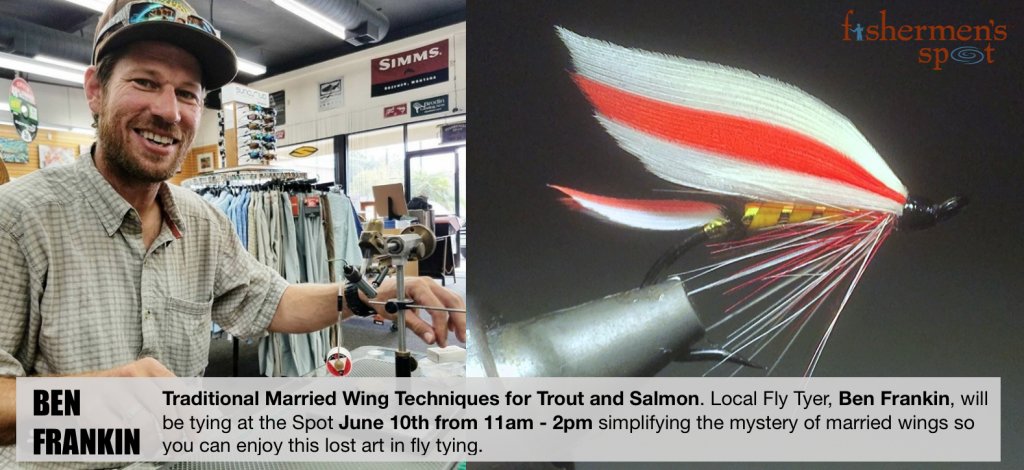 Ben is a very talented tier who will simplify the mystery of married wings so you can enjoy this lost art in fly tying!

FLY FISHING SOCAL'S OFFSHORE WATERS & SIMMS DAY AT THE SPOT!

Yes, there is more to fly fishing than trout. We have a ton fly fishing opportunities in our own backyard with miles of ocean to explore. These guys will show you how to get it done! FREE Hot Dogs and Beverages!
PRESENTATIONS:
11 am:  FLY FISHING FOR MAKOS IN LOS ANGELES- W/ NICHOLAS BLIXT
12 pm:  OFFSHORE FLY FISHING OPPORTUNITIES  – W/BRUCE SMITH
1 pm:  TARGETING GIANT CALICOS – W/ THE CALICO SYNDICATE
11 am – 1 pm:  FLY TYING WITH THE CALICO SYNDICATE
Nicholas Blixt is a Santa Monica-based guide and casting instructor who loves everything fresh and saltwater, but whose favorite activity is targeting shortfin mako sharks in local waters.
Come learn about what makes this species such an exhilarating target on fly and why it demands our respect and protection.
Bruce Smith, owner operator of the sport fishing boat the Fortune, will be at the Spot talking about offshore fly fishing opportunities!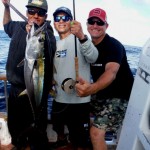 Bruce Smith has worked out of Fisherman's Landing, San Diego since 1991 and for over the last 20 years has worked on some of the finest long range boats in the fleet, including as owner operator of the Fortune one of the best ​charter boats operating out of Southern California.
BUT Bruce is a Fly Fishing guy at heart and understands the fly fishing world allowing the Fortune to cater to the saltwater fly fisherman through private charters or open party fly fishing trips including the 2 1/2 day trip we have scheduled in September (see Shops Hosted Trips for more info)
Checkout this video to get a feel for the trips!
The Calico Syndicate will discuss tactics and tips to targeting and catching giant calicos! The will also tie some of their favorite saltwater patterns!

Simms Rep Tod Suttle will also be on hand with all the latest and greatest from Simms.  Checkout the new Simms Challenger deck boots perfect for the SoCal offshore fishing scene.